Different Types of GPS Devices
Find the Right System for Your Needs
Track Data and Improve Logistics With the Right GPS
Perhaps one of the most important innovations in recent history has been the development, and widespread adoption of GPS, or Global Positioning System, technology. More than just a way to navigate from point A to point B, GPS allows you to track a myriad of datasets, encouraging you to make smarter decisions for your business.
But who benefits from the use of a GPS tracking solution, and which type of GPS should they use? To better answer these questions, it's important to understand how these devices work and how they're packaged.
Uses For GPS Tracking Units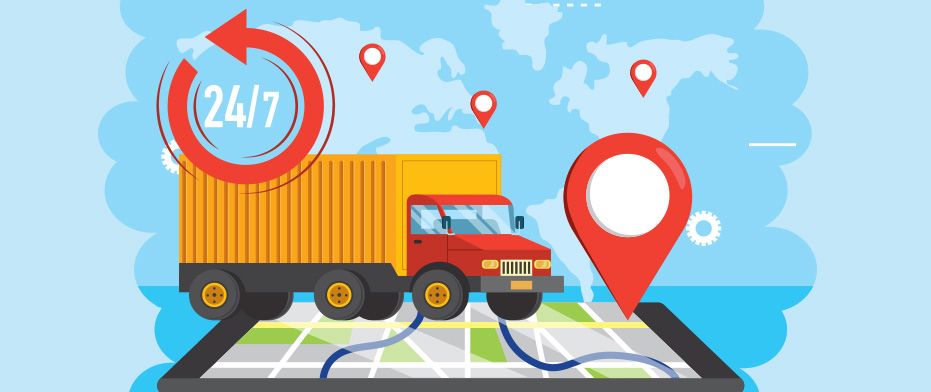 GPS Units from Skypatrol Serve a Range of Industries and Purposes
Fleet management for deliveries and trucking
Buy Here, Pay Here car dealers
Establish geofencing for deliveries
Car lot inventory management and tracking
Improve driver performance and safety
Your Guide to Types of GPS Units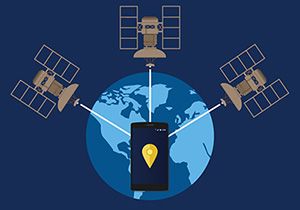 How GPS Tracking Works
In order to provide accurate, real-time location information, your GPS unit relies on a network of about 30 satellites that are constantly orbiting the Earth. Hovering more than 12,000 miles above the Earth, these satellites were first installed by the U.S. government for military applications. Today, anyone can make use of this satellite network in order to figure out where they are.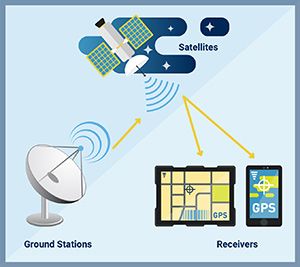 Wherever you stand on the planet, your GPS can pick up a radio signal from at least four different satellites, each transmitting a different set of information about its position and the current times. Your GPS unit receives this information and determines how far away a satellite is based on how long it took to get that information. Once it receives info from three satellites, the GPS can present you with an accurate location thanks to trilateration.
The concept of trilateration might seem complicated at first, but it's surprisingly straightforward. Think about it this way. When you're standing on a given point in your city, your GPS is in communication with three or more satellites. Your GPS can determine how far away you are from one satellite, and determine that you might be within a given range around the satellite, not unlike a circle. The GPS repeats this process for the other two satellites, ultimately finding the point where the three circles intersect, providing you with your location information.
But what allows our GPS units to know where the satellites are? It's all thanks to a series of ground stations here on Earth. These ground stations use radar to pinpoint where in the sky the satellites are.
Generally speaking, most people refer to GPS when they discuss anything that is used to determine directions. This is GPS navigation. When a device is used to share its location with others, this is the process of GPS tracking. Simply put, if a device receives location data from the satellite network, it is a GPS device.
Within these two overarching categories, you'll find a variety of specialized devices that fit unique roles and purposes. At Skypatrol, we have a line of different GPS units to meet nearly any need.

GPS Navigators
Perhaps the most commonly recognized model of GPS device, these calculate your geographic location based on satellite data. You'll find GPS navigators in cars, trucks, boats, and even in smartphones. A GPS navigator displays its data on a map that's updated as the vehicle moves. Some navigators can offer insights into shortcuts, and street names in real-time as you travel.
Typically, GPS trackers are used for vehicles and heavy equipment like semi-trucks and tractor-trailers. GPS trackers are compact and can draw power from the vehicle, as well as having a battery backup. You'll find GPS trackers offered in three types: plug-in, hardwired, and battery-powered

Plug In GPS Trackers
Plug-in GPS trackers fit into the OBD II power port in a vehicle. These ports offer the power and data the GPS tracker needs to function properly. Because they're connected to the vehicle, they can track when the vehicle is on or off

Hardwired GPS Trackers
Hardwired GPS trackers are wired directly into the vehicle itself. This is useful for vehicles without OBD II ports, or have a diesel engine. An advantage of a hardwired unit is that it can be hidden within the vehicle itself. These units are ideal for those who need to track work trucks for their business.

Battery Powered GPS Trackers
Battery-powered GPS units are not reliant on the power system of the vehicle in order to work properly. These GPS units often broadcast their location to outside monitors, making them useful for fleet management. Whereas vehicle-mounted GPS units broadcast their location about once a minute as the vehicle is moving, and reports every hour when the vehicle is still, battery-powered options report every 15 minutes while in motion and every four hours when still.

GPS Logger
Very similar to GPS trackers, loggers monitor and record GPS locations as a vehicle travels. But loggers cannot provide real-time updates on location. Instead, the device has to be taken out of the vehicle and plugged into a computer. From there, the tracked location data can be pulled into a report.
For those looking for an affordable GPS option, a logger may be a fine solution as they don't require monthly GPS service fees. These are often used to acquire datasets about time and location.
GPS Location Finder
Essentially the modern-day version of leaving a trail of breadcrumbs, GPS location finders are useful for those who need to navigate their way back "home." These devices are used to find directions back to a starting location, as it records where you began your journey
Asset Trackers
Asset trackers are used for more than vehicles. They can be applied to individual objects, like cargo containers, to track where and when they are. This makes them a good fit for delivery purposes as well as asset protection and recovery.
Which GPS Tracking Device Do You Need?
With so many different types of GPS devices to choose from, it can be challenging to figure out which one best suits your needs. We encourage our customers to think about factors like cost, features, and how they expect to use the device itself.
GPS Solutions From SkyPatrol
As a leader and innovator in the field of GPS tracking and fleet management, Skypatrol has created a variety of hardware and software solutions all designed to help you better monitor, protect, and optimize your assets. Simply put, if your people, vehicles, or products are on the move, we can help you track it. All of our hardware and software solutions make use of cutting-edge technology that can help you improve your customer service and improve your operational efficiency.

GPS Tracking for BHPH and Finance
Are you working in the subprime industry? Managing a Buy Here, Pay Here or financing business? You'll need the right tools to find success. Skypatrol offers GPS tracking hardware and software to help you manage your inventory, track your assets, and more. Our Defender GPS system can help you stay on top of your business and connect with your customers in new ways.
Defender seamlessly pairs our GPS tracking technology with our user-friendly data management dashboards. Our Repo Mode Tool allows you to send recovery teams to the vehicle as soon as it's activated. For the next 72 hours, the GPS tracker will update you with the location of the vehicle at 15-minute intervals. You can establish custom geofences that will alert you when a vehicle leaves the city, state, or a set area like an impound lot. Finally, you can monitor when the car is stopped, or moving, thanks to the Ignition On/Off tracker.

GPS Solutions for Car Dealerships
For car dealerships, one of the most persistent issues is lot management. When you're working with hundreds of vehicles a day, it can be challenging to keep them all organized at best, and downright impossible at worst.
When you can't keep track of your vehicle inventory, you open yourself up to more issues than simply not being able to find a customer's car. Nearly a quarter of dealerships have a car stolen off their lot every year. A third struggle to find a car for a test-drive, and nearly 80% of dealers find that a vehicle has a dead battery when they need to take it for a test drive. The fact is, your car dealership can't afford to not implement a comprehensive GPS tracking and monitoring system.
With ProtekGPS+ from Skypatrol, you can instantly locate any vehicle in any of your lots at any time of the day. With our GPS tracking system, you can quickly recover stolen vehicles. More than just protecting your inventory, you can also provide an enhanced level of care and service for your customers. You can set up a low-battery alert system, ensuring that your customers stay safe on the road. You can monitor vehicle mileage and send customers service reminders and promotional materials to bring them back to the dealership.
With our comprehensive GPS tracking solutions, you can distinguish your dealership from all of its competitors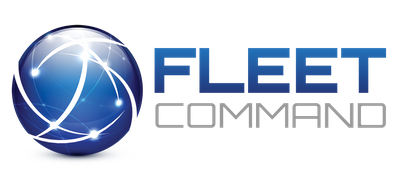 Put Your GPS Data to Use With Fleet Management Software
Now more than ever, it's important to track the performance and locations of your fleet and assets. That's why Skypatrol crafted Fleet Command, an intuitive GPS and data-tracking and monitoring system.
Fleet Command helps you locate your vehicles and their performance metrics, allowing you to make changes to routes in near real-time. By tracking the behavior of your fleet drivers, you can analyze how drivers are using their resources. This helps you to cut back on wasted fuel costs by minimizing idle engine time, enforce company speed limits, and track which drivers are arriving on time or late.
This innovative software can also be used to help you streamline the myriad of admin tasks you have to keep up on to keep your fleet moving. Use past GPS data to determine the most efficient and profitable routes and invest more in the success of your business.
With data like this, you can help your fleet business grow and preempt problems before they occur. Ultimately, you'll enjoy a safer, more reliable fleet of drivers thanks to the data that Fleet Command collects from your GPS devices.
The fact is, there are plenty of providers of GPS tracking devices and solutions. What makes our systems and products any different? Since 2002, Skypatrol has been creating GPS devices that meet the needs of industries just like yours. We proudly work with clients in fields like vehicle finance, fleet management, mobile asset tracking, automobile dealerships, outdoor sports, and motorsports.

Industry Leading GPS Devices
More than just a diverse range of versatile GPS products, we ensure that our devices make use of the leading GPS platforms. All of our products work with GSM and CDMA cellular networks to get accurate, fast location information. Plus, we offer dual-mode Iridium satellite devices to offer an unparalleled level of precision in our GPS data.
Of course, purchasing our products and services only goes so far. That's why we offer support whenever you need it. From installation to troubleshooting, maintenance to upgrades, our GPS specialists will get you the results you're looking for.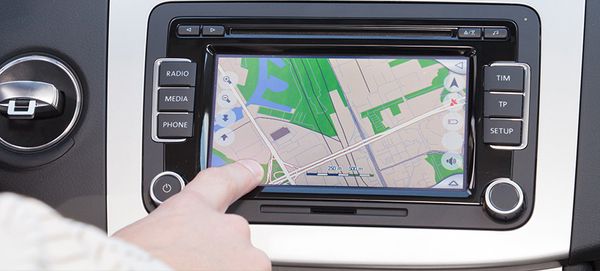 Support When You Need It
More than just a diverse range of versatile GPS products, we ensure that our devices make use of the leading GPS platforms. All of our products work with GSM and CDMA cellular networks to get accurate, fast location information. Plus, we offer dual-mode Iridium satellite devices to offer an unparalleled level of precision in our GPS data.
From simple plug-and-play type GPS devices to more advanced tracking and security GPS systems, Skypatrol has the GPS hardware you're looking for. Our devices are so trusted, you'll find more than one million of them in vehicles and objects across more than 25 countries. We're a globally recognized provider of premium tracking technology and services.
SkyPatrol is Your Source For Quality GPS Devices
From trackers to navigators, Skypatrol has a premium GPS device to meet the needs of your business. Whether you're managing a fleet of three trucks or 100, you'll be able to optimize your resource allocation and delivery times with the data you collect with our GPS hardware and software. Maintain records about your vehicle lot and connect with customers in new ways with the right devices from Skypatrol.
Browse our catalog of GPS hardware now, and find the right software solution for your needs. Reach out to our location tracking technology specialists today to find out more about our work
Have any questions? Let us help you find the best solution for you. Fill out the form to your right and a solution specialist will contact you shortly.